I want to give Microsoft Office 365 a chance. But it's just a terrible and incomplete experience. Herein my tale of woe.
~
I received a link to a folder from a co-worker. I need to keep up-to-date on the files within it. Great news, there's a "Follow" button that looks like it will do the trick:

Except, when I click on it, I get an error:

Ok, worst case, I guess I can just sync the folder to my local filesystem and monitor it that way. There is a big shiny sync button that leads to this: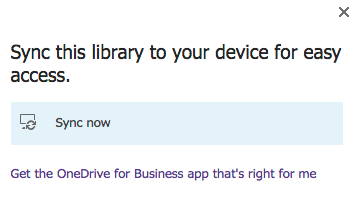 Well, it makes sense that I'd need to download a desktop app to perform the sync, like with Dropbox. What happens when I click "Get the OneDrive for Business app that's right for me"?
"Only on a PC"? That's … disappointing.
~
Microsoft really should know that table stakes for cloud-hosted services is that the clients work seamlessly across multiple devices. After this experience, they'll have a really hard job to convince me to take another look in a few years' time.