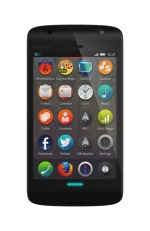 The new Firefox OS phones from geeksphone are nearly here, with the announcement that next week they will be available from the currently-dormant online shop.
~
It was back in 2009 that I got a Palm Pre, perhaps the first commercial demonstration of "HTML for (almost) everything". The turbulent history of that device is well-known, but shouldn't detract from the core idea of building the entire user experience and applications using web technologies.
So I'm excited about Firefox OS, but thus far I've been sceptical about the platform's ability to get developer attention, to build an ecosystem, and to reach a scale that makes the platform viable in the long-term. It depends very much on Mozilla's and Telefonica's ability to execute, and to get other device manufacturers to actually ship hardware.
~
As a small nitpicking example of execution, there's no nice semantic URL I can point you to for Firefox OS. The best I could find is http://www.mozilla.org/en-US/firefox/partners/ or possibly http://www.mozilla.org/en-US/firefox/partners/#os. For developers it's a little better, with https://developer.mozilla.org/en/docs/Mozilla/Firefox_OS.
I could talk about my disappointment with Mozilla's engagement with LiMo Foundation, where they had the opportunity to become the de facto web runtime as well as to demonstrate to mobile operators how to effectively work in an open source and open development model. If that had worked, we could have seen a precursor of today's Firefox OS in 2009, rather than waiting four more years. Maybe some version of Firefox OS would be ascendant, and not the Android hydra. 
It's churlish to criticise Mozilla alone, when the rest of the LiMo membership frittered away any opportunity for leadership in web runtimes because they couldn't play nicely together, but I do think Mozilla missed a trick by not adopting a platform approach much sooner. Even as late as 2010 key people at Mozilla seemed to have their head in the clouds, when I had a heated discussion about the importance of web runtimes at GUADEC. I suspect that today's Firefox OS is more the result of luck and external enthusiasm around B2G rather than any clearly-planned advance strategy.
Thankfully I think the team at Telefonica have a clear vision of what's needed from Firefox OS, and with their experience of running "the thinking man's developer engagement" (BlueVia), I suspect they also have a good idea of how to take it to the developer market.
~
One factor that's changed my mind significantly about the likely success of Firefox OS was my trial of the Nokia Lumia. With a limited selection of apps in the Windows Phone app store, I was forced to rely rather more heavily on web apps for some core functionality and to fill the gaps, to get me through the day.
When the Palm Pre first launched, many websites were simply unusable from a mobile device. My time with the Lumia showed me how far along the mobile web has come (and how far it still lags behind), but one thing was clear: in the last few years, it's now become possible to survive with web apps and a good mobile browser. Many companies need to address the desktop market with good websites even whilst building native apps. For those companies in particular, being Firefox OS-friendly is a simple step and a no-brainer.
~
What's eye-catching about the geeksphone announcement is the pricing of the new devices: the Keon is €91, and the Peak is €149. That's a great price for a smartphone. I was curious to see how the specifications stack up against similar phones, so I did a quick comparison using information from the encyclopaedic GSM Arena.
I compared published specifications against the last attempt at a "web runtime" mobile device, the HP Pre 3. I also compared against the iPhone 5 and iPhone 4S, the Samsung Galaxy SII / SIII / S4, and the Lumia 920.
The raw data is below in a spreadsheet, but from first glance these geeksphone handsets are not bad devices, with some obvious economic trade-offs – mostly around CPU and memory. When comparing prices you'll probably want to factor in a good fast microSD card since the phones are light on storage. It will be interesting to see how well Firefox OS performs on those CPUs – but given announced future devices are even lower-spec, I would hope that lots of optimisation will make them sufficiently usable.
The Keon should be fine for development, but for normal use I'd most likely go for the Peak. Based on the specification, it seems like a realistic day-to-day device. At this price point, they are cheap enough to risk some money on for experimentation.
Of course the raw data doesn't cover things like differences between chipsets in real life – see Why a Snapdragon S4 Galaxy SIII Is Awesome for an interesting discussion of this.
~
Finally – there's a Firefox OS Hack Day coming up in the UK at the end of May – which should be a good opportunity to do some development with the devices.
~
The raw stats:
Note pricing data is approximate. If you notice any errors or can provide any more details, please let me know.