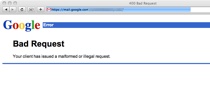 I've been having some difficulty reaching google.com and gmail over the last week or so, typically with the sites timing out between 9-10am, generally being sluggish. Other websites work just fine, so I've had to for example use Yahoo! search instead (oh, the horror!).
This morning, it's taken a turn for the worse: I kept getting errors while trying to send mail, and now finally it's completely packed up, and all I get is the message:
Bad Request
Your client has issued a malformed or illegal request
So is this the new version of Safari, the new update to OS X, or Gmail being broken? Looks like it's something Safari-related as the site works just fine in Firefox. But why only today, and not a week or so ago when the Safari update was released, or yesterday when I installed the OS X update?