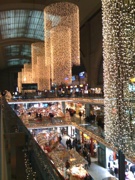 Well, I make that 17 days without a word from me. Some kind of record? Shortly after my last post I jetted off to Germany, where I spent a few days in Cadenberge (Cadenberge, Cadenberge, Cadenberge) and a few days in Hamburg. I also zipped over to Leipzig, for the Softwareforen Leipzig, where I spoke on "LiMo Foundation: collaborative development for the future of mobile". It was an interesting event, and a good opportunity to talk to people from OpenMoko and Nokia/Trolltech, amongst others.
A couple of observations from the traveling part. Whilst Heathrow T5 is shiny, new, white, crisp, empty, and generally quite pleasant to travel through, T2 remains a squalid, shameful, disgusting experience. I flew with Lufthansa, who on the whole are better than BA, but the outbound experience makes me think the killer combination is now BA out and Lufthansa back. By comparison, Hamburg's airport is pretty good. Even though it is relatively small, it packs in a good choice of shops and is clean, bright, and warm.
I took the ICE to get to Leipzig, and that was my first experience on German inter-city trains. It compared favourably with the Dutch experience and the Eurostar, and once again showed how ridiculously bad the UK rail infrastructure is. The only things missing on the german trains were power sockets and wifi, which was especially problematic on my return, when both my laptop and my phone were nearly dead.
And finally, an accolade for Leipzig's rail station, shown in the photo. Some genius decided to put a shopping mall inside/alongside it, which makes so much sense: with a few minutes to kill before my train, I was able to have something decent to eat and to do some last-minute Christmas shopping without leaving the station. I honestly don't know why more places don't do this: it makes it a benefit to get to the station with plenty of time, and provides relief from those tedious waits for delayed trains. In the UK, they could make a fortune!