Some evil people are placing bets on how quickly I'll start complaining about Vodafone, so I'm not going to do that. No, instead I'm going to complain about the N95

First up: I've discovered a bug (though I'm not the first to notice it). If you have a repeating alarm set, after the alarm has gone off once, the multimedia key stops working. Great!
Actually, that's the only complaint so far. I've just discovered the camera has autofocus, which is cool.
Meanwhile, I'm trying to figure out what the best mobile VOIP solution is. Many of these would also work on the N80, too.
Truphone setup was by sending a text message to a number, get a text back with a url, visit the url and agree to the T&C, and first thing they do is give me a truphone number 447624004374 and a password to note down before downloading the app. Then the app tells me it can only be installed on the phone memory (C drive .. how quaint). I'm going to give that a miss for now.
Fring promises Skype, Google Talk, MSN and Twitter on the mobile (see el Reg for details). No such stupid installation location restrictions, and simple setup. Sadly it doesn't integrate with the N95's address book though, and with an extensive list of contacts it's a little unwieldy. But within a couple of minutes of installation I'd made a test VOIP call to their echo service, which worked.
I left Fring running for a while, and noticed the phone battery compartment beginning to warm up, and the battery charge dropping at an alarming rate. I guess this is because I turned off WiFi power-saving.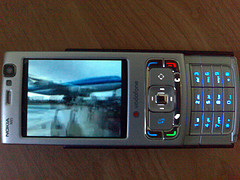 Oh, and Vodafone Live! is still Vodafone Dead! – that's 48 hours and counting – so still haven't been able to try out streaming TV. But YouTube's mobile site works just fine, even though it has to fire up standalone RealPlayer rather than playing clips directly in pages. Quality is acceptable, it could provide a useful distraction whilst stuck at airports and on trains etc.