I don't know quite what's going on, but the Conservative party are turning things upside down here in the UK. Between pushing for Open Source and pushing for more tax on flights, a casual observer might begin to think they are doing the right thing.
They did at least make me curious about exploring travel options. So here's a hypothetical comparison: I regularly have meetings in Amsterdam, so what's the incentive to "do the right thing" currently?

With Eurostar, booking 2 months ahead gives me a travel time of some 8.5 hours each way and a price of in the region of £300 (based on the Eurostar details and the addition of getting from Norwich to London). On the plus side, there's power sockets at the seats. On the down side, it's an entire day of travel with no internet access.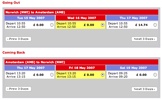 With Flybe, booking ahead gives me a travel time of 2 hours there and -25 minutes back (seriously; on Saturday I walked in the door of my house before I took off in Amsterdam), and a cost of £59.37 – all of which is airport taxes and charges. On the plus side, the journey time and cost are negligible. On the down side, there's security theatre.
I think right now it's a very tough business case to pick the "environmentally-friendly" option over the quick and cheap option. It would take a properly-integrated travel network (ideally no changes of train) and wifi all the way (productive working time wins out over security theatre and speed). But it's hard to believe that any government could increase the taxes more than threefold.
Maybe I should just buy a boat? I could sail to Amsterdam in the ultimate environmentally-friendly vehicle, and it will be handy given the seeming inevitability of global warming, too. Then I can travel the world long after Norwich and Amsterdam are under water