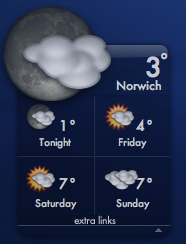 Yet more of the what's on my powerbook? since Gianugo has also made the switch. Here's that I can't live without this week.
First and foremost, life is great and it's Konfabulator's fault. Thanks to stega for pointers to that. Konfabulator gives you widgets, such as the weather one on the right. I also recommend easyKal, iPod remote, Internet health monitor, iChat bezel, and analogue clock.
Next: SlimBatteryMonitor, via Ted's Mac tips and tricks.
This one isn't strictly software per se, but a collection of mighty useful iTunes scripts.
Finally, through clenched teeth: Remote Desktop Connection. Some actually rather good Microsoft software. I've used this several times to administer a Windows XP Professional machine remotely, and I have to say: it works. Useful for fixing things on the parents' computer when it goes wrong.